These days, when the use of technology in every field of our life is increasing rapidly, we are automatically forced to keep our eyes open for a longer time in front of the computer screen. This is natural. Our work demands that. We can't completely ban the use of these devices from our lifestyle. But, we can take protective measures to reduce their bad impact on our health. This is why we need light filter applications in these devices. These applications adjust the display settings to comfort our eyes. There is much such software in the market. But, here we will compare the two most prominent ones: f.lux and CareUEyes.
In order to get a wider view of the differences, advantages, and disadvantages, we will compare both the products side by side. Here we will have a detailed look into the UI and some common features that this software has to offer.
UI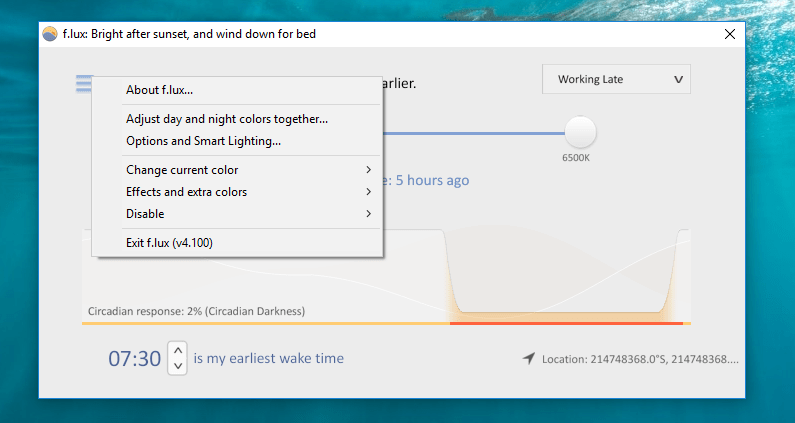 The home screen of f.lux looks fancy and has the display temperature control on it. It looks pretty decent. But In order to access its advanced features, you have to dive deeper into menus. Now, it is completely ok to dive deeper. But, the only thing that feels wired is its dialog boxes. The dialog boxes don't match up with the style of the home screen. Moreover, on the home screen, there are values like Circadian Darkness, location coordinates, and wake-up time.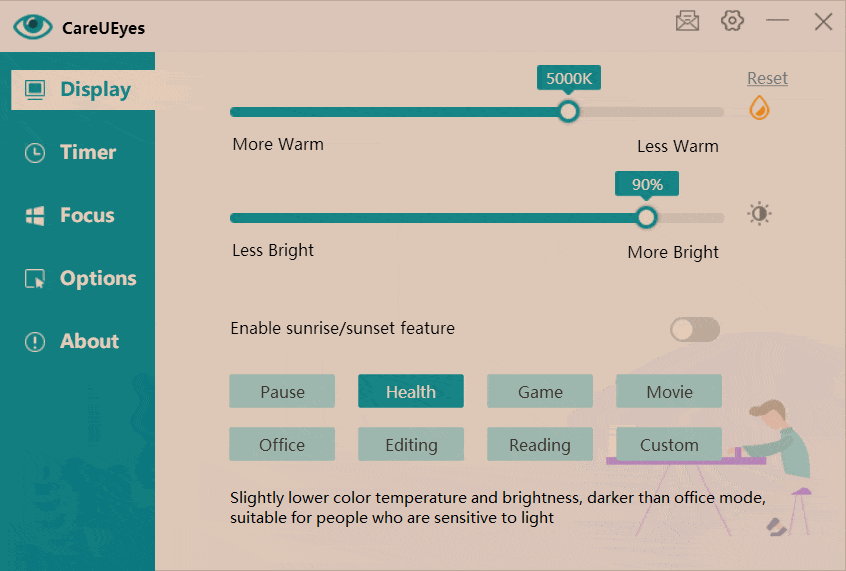 On the other hand, CareUEyes also has a great UI. It is surrounded by a lot of options in a single panel. It is easier to use and does not need to switch into nested menus. You can easily find any of your desired options without diving deeper. Moreover, it gives you the vibes of a genuine piece of professional software.
Blue Light Filter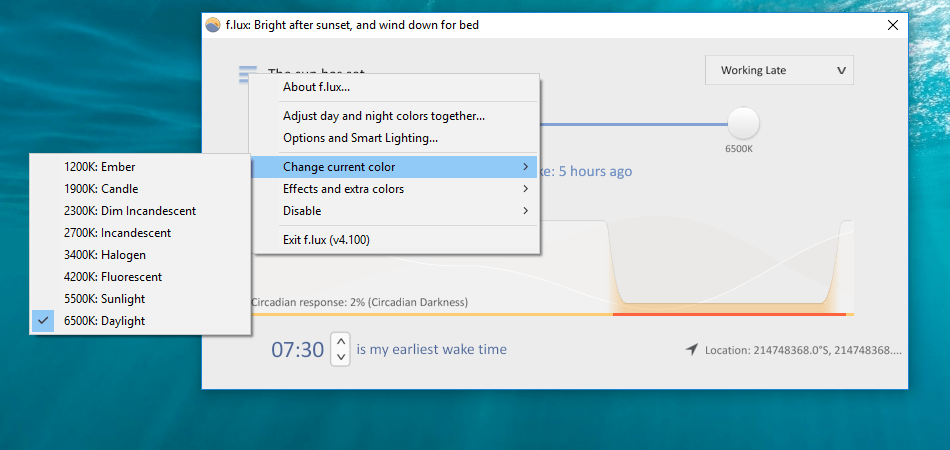 Night-time exposure to blue light makes people more alert and also affects their circadian timing. A wide range of lights appear to be able to stimulate the circadian system in humans, and so while we refer to "blue light" in order to distinguish it from the light our visual system sees, it includes lights that appear green, blue, cyan, and even orange.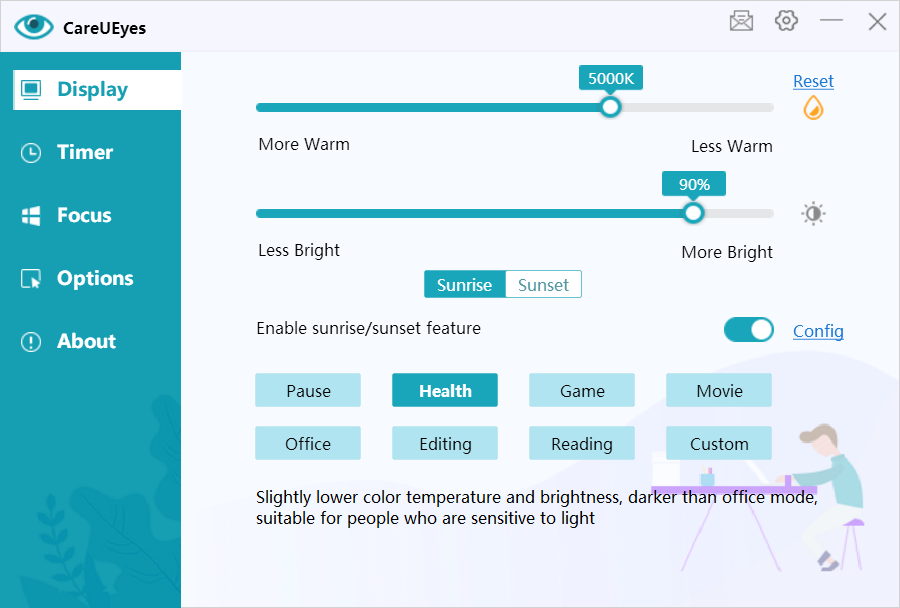 CareUEyes also has decent blue light filtering. Its blue light filtering is embedded in its display panel. CareUEyes can automatically filter the blue light and make the screen look warmer and comfortable to the eyes so that your eyes do not feel tired, and this application comes with several presets that adjust both color temperature and brightness such as normal, smart, office, game and night. Also, the inbuilt modes are well customized to suit the different nature of work environments.
Brightness adjustments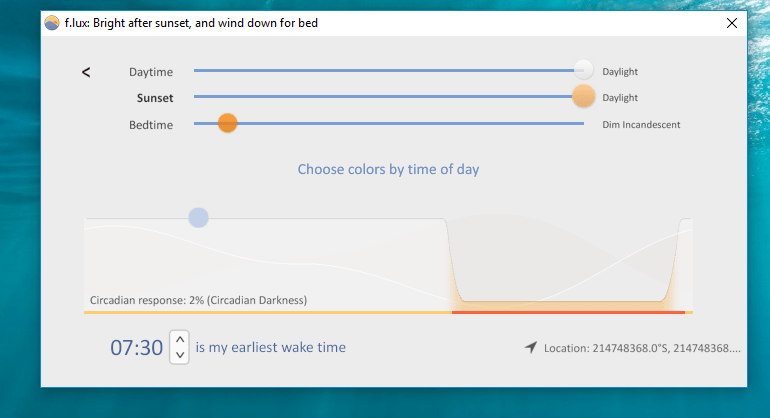 In its brightness adjustments, it has three controls: daytime, sunset, and bedtime. Also, it has temperature adjustment controls on the home screen. Moreover, there are many presets that help you to choose the best setting for your environment without any manual tweak. But, there are so many options that you need to play around with it for some time.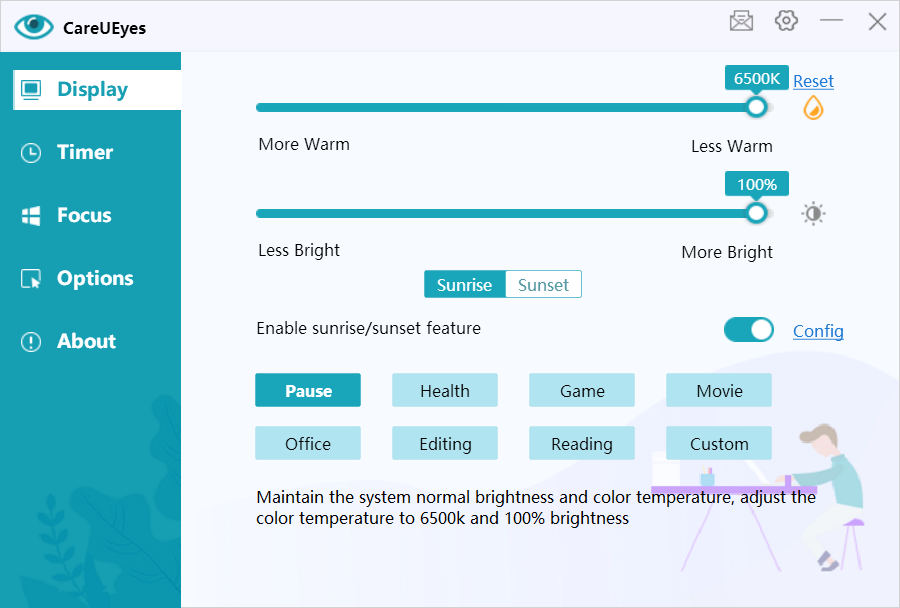 CareUEyes also has an amazing panel to control the brightness. It allows equal control over the warmth and brightness. A good setting will definitely prove it worthy. It gives you limited controls and makes it easy for anyone to use it. No unnecessary and redundant progress bars to confuse the users.
Timer
f.lux lacks this feature. There is no such feature as a timer in f.lux.
CareUEyes provides rest notifications to keep you from working for too long at a time. It is very important to take regular breaks, and it's not just your eyes that benefit from them. This application can ensure that you don't forget to rest every now and again, by displaying desktop notifications for a specified amount of time. Furthermore, CareUEyes has a special and exceptional feature called Force Rest. This features locks down your controls forcibly by removing your controls over them for some time. After the time is passed, it automatically sets everything back to normal.
Types of presets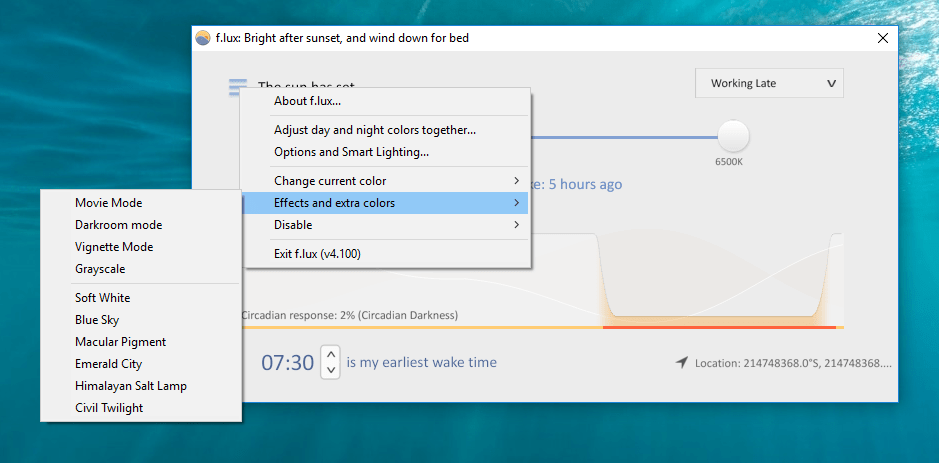 Both the applications have some presets to quickly switch to a setting to adapt to the current work environment. f.lux has modes like movie, dark room, vignette, grayscale, soft white, blue sky, macular pigment, emerald city, Himalayan salt lamp, and civil twilight.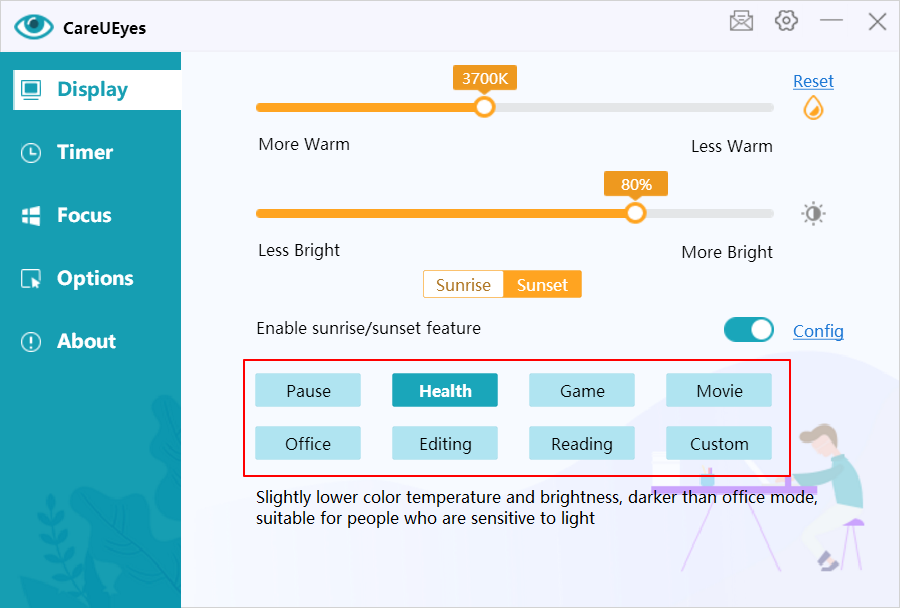 CareUEyes has modes like pause, custom, game, movie, office, night, editing, and reading.
f.lux has more presets. But, the nomenclature of the presets in f.lux is a bit confusing. You have to play around a bit to find the best one for you. On the other hand, CareUEyes has relatable names for its presets. You can find the best one in no time.
Other features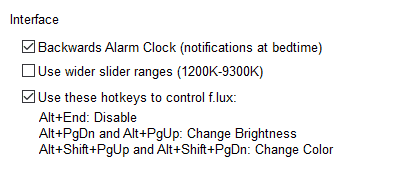 As far as other options are concerned, both apps have a lot of features embedded in them. f.lux has features like hotkeys for enable/disable toggle, change brightness, and change color. This feature is one of the best features I find on f.lux. This is because many times we have to work on the computer in a variable environment. In such cases, without these shortcut keys, we have to open up the panel, go to the option and change the brightness. But, with these hotkeys, it becomes so simple and quick.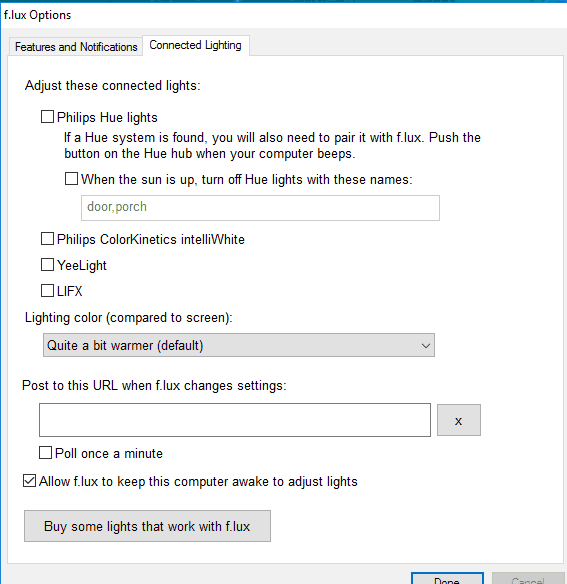 Also, f.lux supports a connected lighting feature. Using this feature changes the surrounding light of your studio. Especially for professional editors and video creators who work in a studio with surrounding lights, this is a great feature. But, not all lights work with this feature.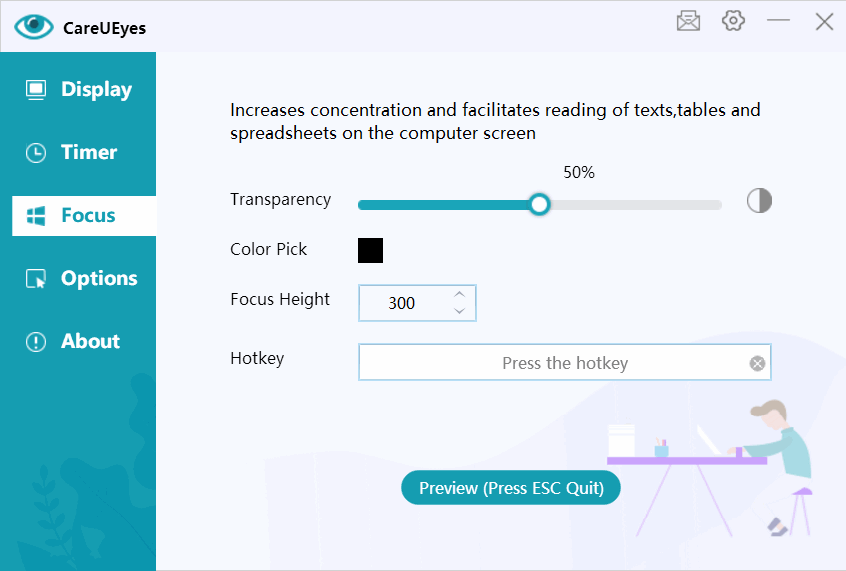 Coming to CareUEyes, it has some great features like Focus. The feature itself is self-descriptive from its name. It helps the user to focus on their work. Now is the Internet age. Every day, there are instant messages, emails, and short messages that interfere with our work. When reading articles, we can't be interfered with by other information. In order to improve reading efficiency, we need to force ourselves to stay focused and avoid other content dispersion. CareUEyes' Focus function can help you. It is a unique feature of CareUEyes Pro that prevents you from interfering with other window content to keep you focused. Also, when the mouse moves, the focus window will move with it.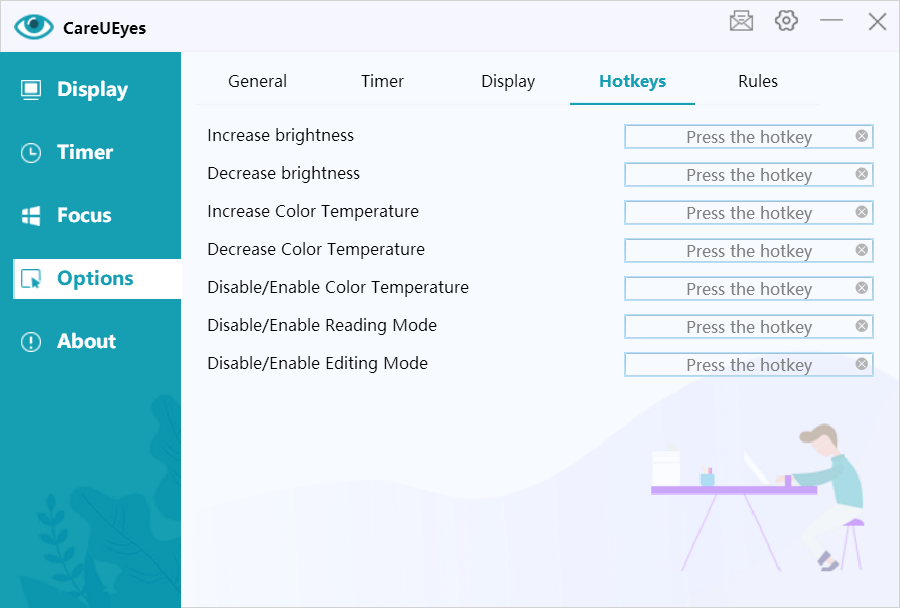 Moreover, CareUEyes provides the feature of hotkeys. This feature needs no introduction. But, one special feature about the hot hey feature is that it works with the focus feature. Just a simple combination of keys and your focus stays intact. Again, CareUEyes provides a more flexible hotkey feature as compared to f.lux. f.lux has hotkeys only for three parameters: enable/disable toggle, change brightness, and change color. But, CareUEyes has hotkeys for four parameters: brightness, color adjustment, toggle reading mode, and toggle editing mode.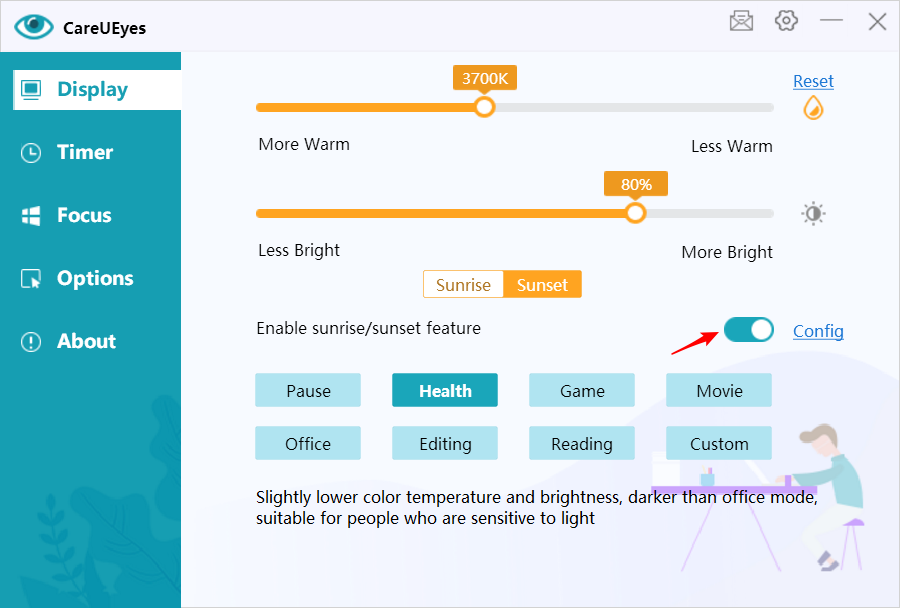 Again, CareUEyes has a great feature in its Display options. It's the sunrise and sunset feature. This feature enables the application to automatically adjust the preferred setting according to the time. Furthermore, there is another stunning feature that allows you to add customized rules to the application. This feature ignores brightness adjustments on specified screens. This is a great feature when you decide to enjoy a movie after a whole day of work. It is very easy to setup. Adding a rule is just three clicks away. Simple, isn't it?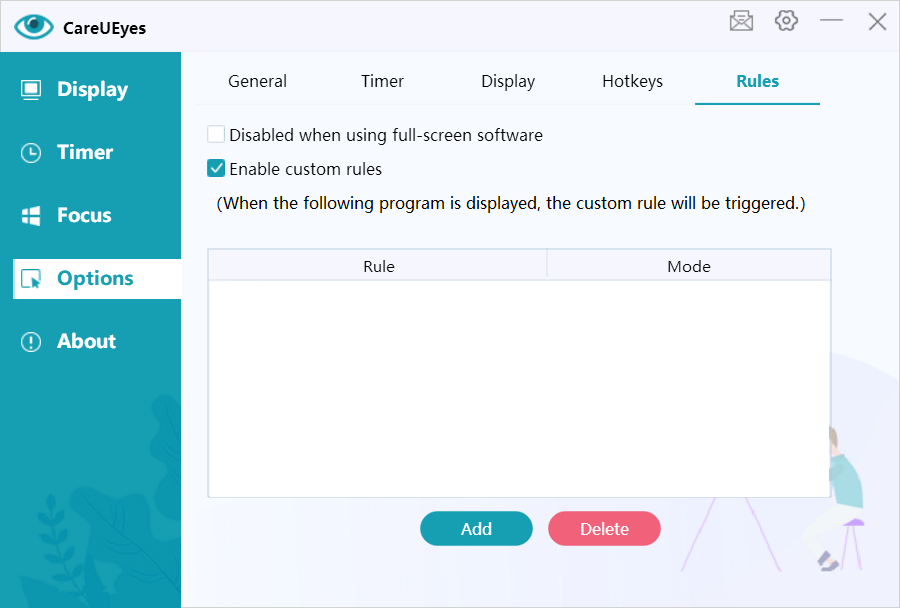 Pricing
f.lux is completely free for personal use. But, CareUEyes has a trial period after which you will have to buy a license for $14.90.
f.lux is great for students. But, if you are working on a professional level, CareUEyes has some premium features for you.
More information
This was a comparison between f.lux and CareUEyes. Both are great software. I recommend you to use any of them which suit you the most. Thank you.