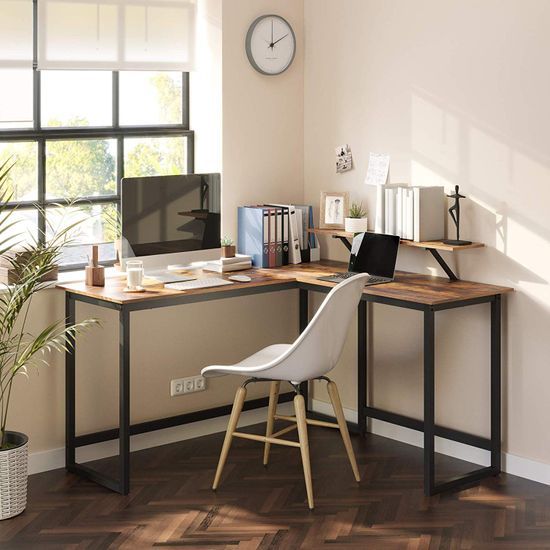 The basic rule of computer screen brightness is: the screen brightness is best adjusted to be similar to the brightness of the surrounding environment, not too bright or too dim. If the screen brightness is not suitable, it will cause eye fatigue and vision problems. However, the surrounding lighting conditions are constantly changing, and we need to adjust the screen brightness frequently.
On the Internet, there are many tutorials on the brightness adjustment of windows 7.
But they can't help you solve the problem, because the brightness adjustment feature of windows 7 is not always displayed in the control panel, and sometimes even if we update the display driver, the brightness cannot be adjusted.
This is really annoying, but by using the third-party application CareUEyes, you can easily adjust the brightness on windows 7.
Adjust Screen Brightness On Windows 7 in a simple way
CareUEyes is an eye protection software that can easily help you adjust the brightness on windows 7. You can use the slider to adjust the brightness in the CareUEyes interface, and CareUEyes also supports setting custom settings hotkeys to adjust the brightness.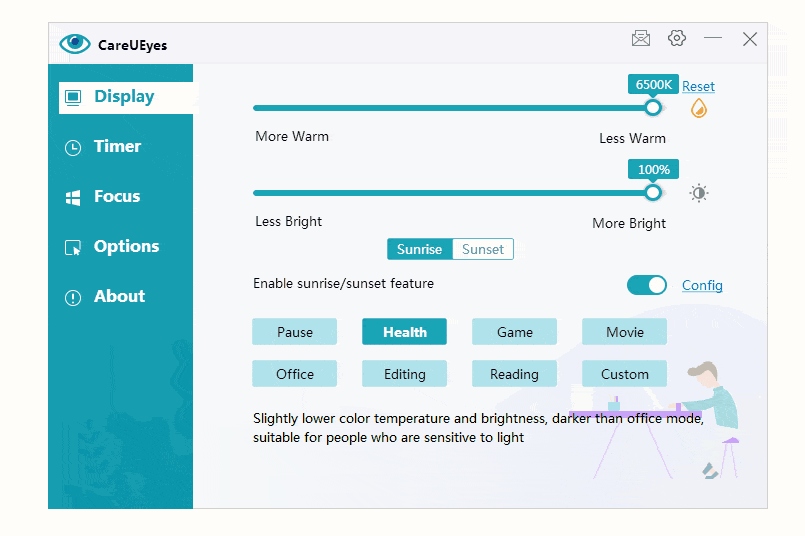 You can customize hotkeys on  CareUEyes' Options page, and then you can use the keyboard to increase or decrease brightness.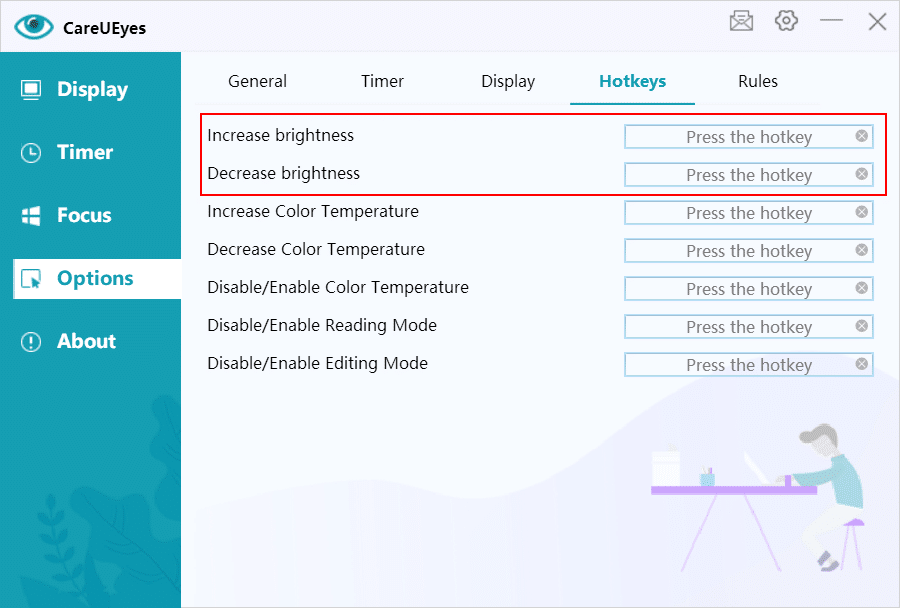 CareUEyes has eight preset modes, each of which can set different brightness for day and night. CareUEyes will help you switch the brightness according to the preset sunrise and sunset time. You can directly select the preferred mode or modify the preset brightness by the slider.
In addition, CareUEyes also has a blue light filter feature, which can filter harmful blue light, so you can sleep better.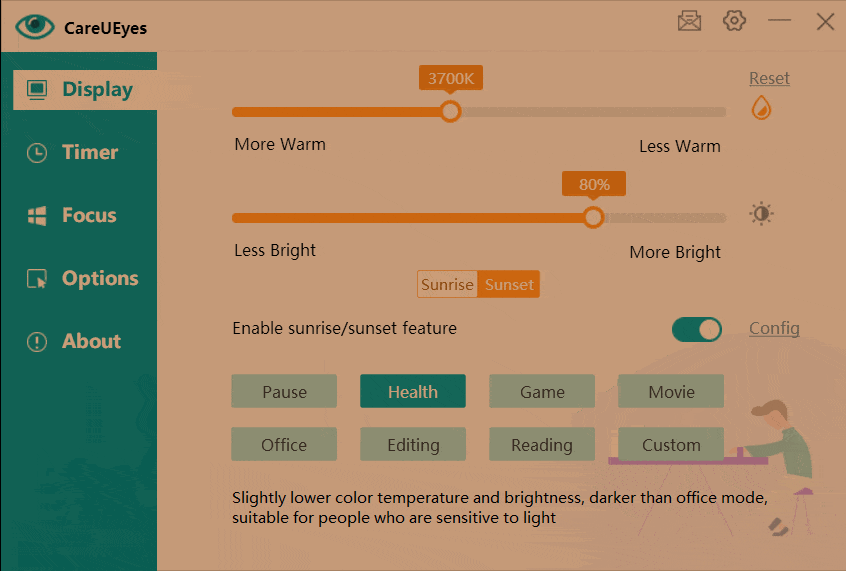 Cooperate with taking regular breaks feature to better protect your eyes and prevent eye fatigue.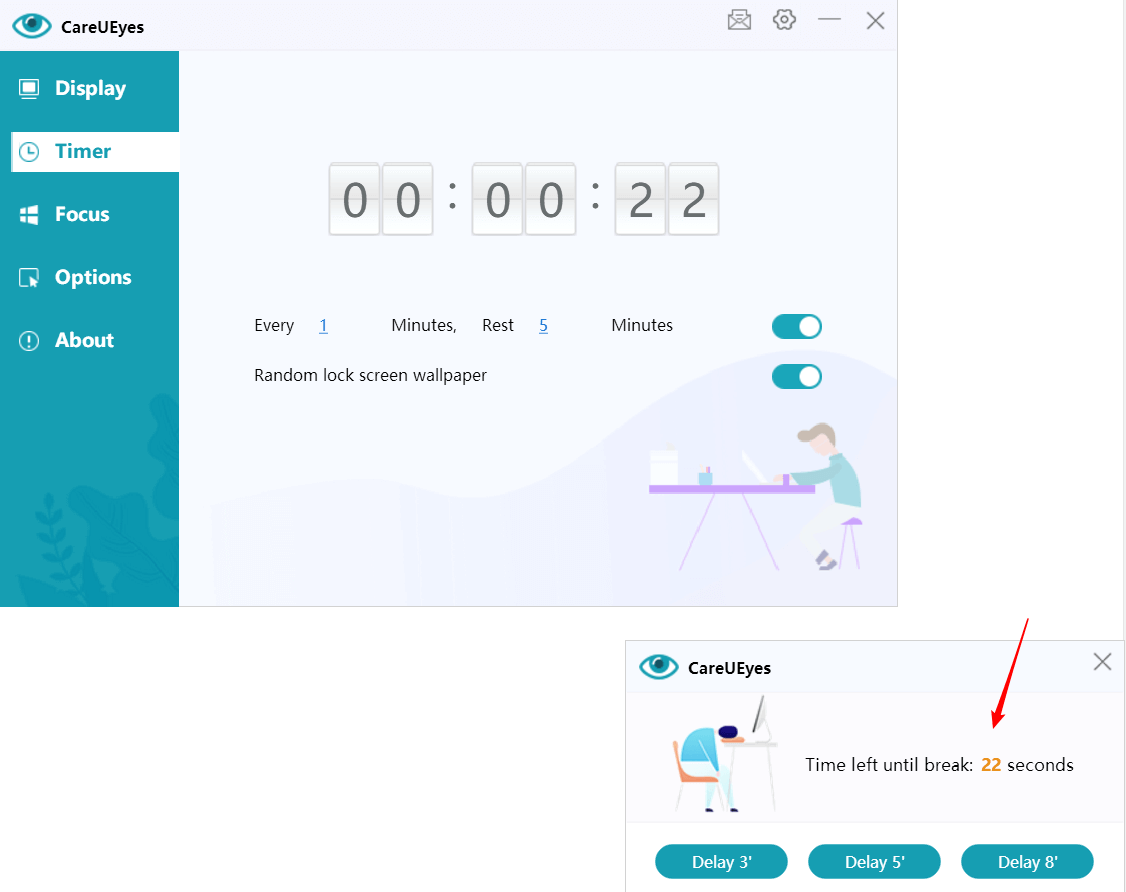 If the brightness of Windows 7 cannot be adjusted, not only will it hurt your eyes, but it will also affect your sleep.
Light is one of the most important external factors that can affect sleep. It does so both directly, by making it difficult for people to fall asleep, and indirectly, by influencing the timing of our internal clock and thereby affecting our preferred time to sleep..(External Factors that Influence Sleep)
Step1: Open the windows 7 control panel
Step2: Select "Hardware and Sound"
Step3: Select "Power Options"
At the bottom of the power options window, you will see the "Screen brightness" slider,  left and right drag Change brightness slider to adjust the brightness of the display.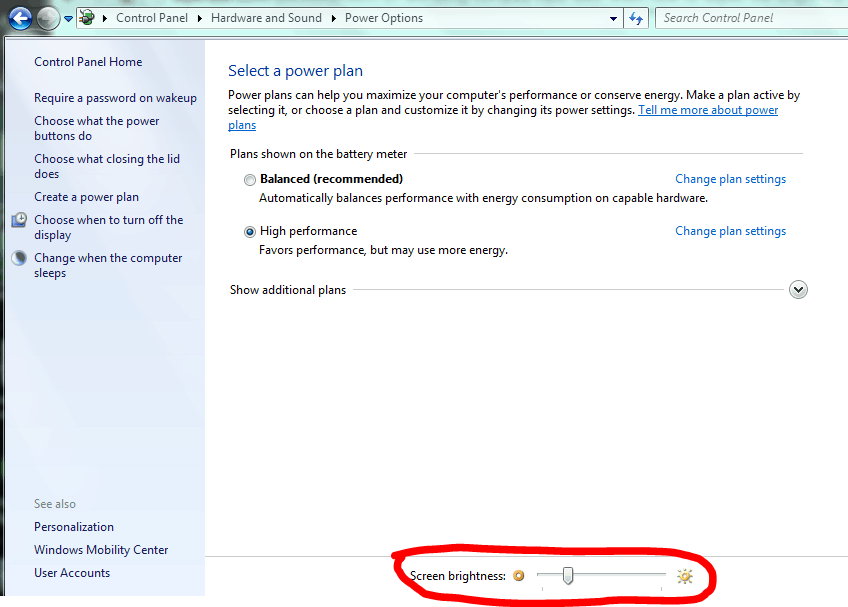 On most laptop keyboards, you will find shortcut keys that can quickly increase and decrease brightness. Usually, these keys are function keys (from F1 to F12) and are usually located at the top of the keyboard. If you want to adjust the screen brightness, look for the brightness symbol (usually a logo).
Since the F keys are function keys, you must hold down the Fn key on the keyboard (usually located near the lower-left corner of the keyboard) when you press them to work.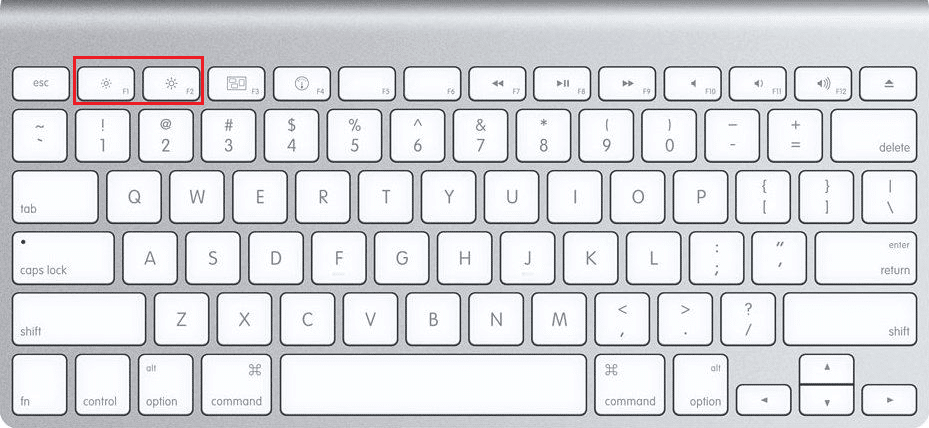 READ NEXT:
> how to change brightness on windows 10