Looking for a night mode for pc?
CareUEyes  is designed for people who like dark screens and want to protect their eyes. CareUEyes  controls the brightness of the computer's screen, when you work in a darker environment it can help you, It can dim all screens and monitors; LCD, TFT and LED backlit types, CareUEyes brightness dimmer for all versions of Windows, including Windows XP, Windows 7, Windows 8, Windows 10.
CareUEyes is an eye care software with night mode for pc , using this eye care software, you will be able to apply night mode to the computer screen in order to reduce eye strain. You can manually adjust the display color temperature and brightness to  relax your eyes. Apart from that, it also comes with 8 different predefined filters based on various activities and you can apply them to your screen with just a click.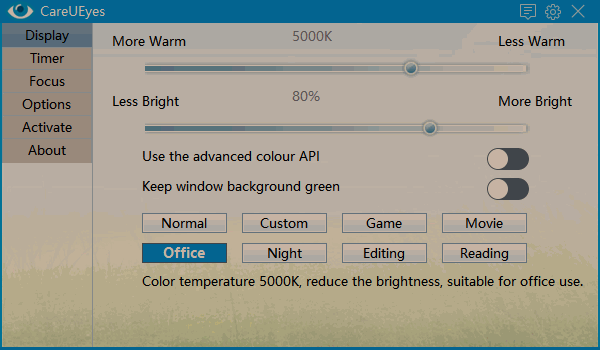 Unlike other night mode for pc, CareUEyes has higher performance. It only needs 5M of memory at run time, requires less CPU time. And the package of CareUEyes is only 2M. I believe this is your best choice.